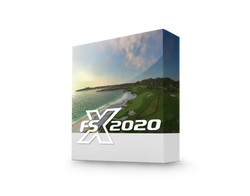 FSX 2020 Software - Full Purchase
Experience the most realistic golf simulation ever with FSX 2020. Play the best and most exclusive courses, practice your skills on the range, or even compete in skill-building competitions with players around the world - all in beautiful 4K resolution.
Featuring true-to-life gaming, powerful professional grade analysis tools and a complete redesign from the ground up with a host of exciting new features, you may never want to play outside again with FSX 2020.
TAKE YOUR GAME ANYWHERE.
See every shot in 3D. Review detailed ball and club data with unmatched precision. With FSX Mobile, you get everything you love about FSX 2020 in a go‑anywhere app.
Note: This FSX 2020 Full upgrade is available only to current FSX owners. For purchase inquiries without a current FSX license, contact sales@foresightsports.com.
Packed with new features, including:
FSX Play (when available) 

Foot Golf

Foresight Fairgrounds

Glass Break (Skill Building Module)

Inside 6 Feet  (Skill Building Module)

Tournaments mode in Compete

Range mode support

Updates to club images and club analysis screen

Refinement of impact location reporting on club face

Device indicator light now mirrors functionality of device

New Default Manager lets users save custom settings in game set-up

New Stimp feature makes assessing and changing green speed even easier

New green contour feature makes viewing and reading the green even easier
Operating requirements:
GC2, GCQuad, or GCHawk launch monitor
PC operating Windows 7 or greater
Recommend processor speed i7 (Gen6)
Must have NVidia GeForce 1050 Ti video card or greater


Pebble Beach®, Pebble Beach Golf Links®, the course logo, The Lone Cypress™, course designs and their respective underlying distinctive images are trademarks, service marks and trade dress of Pebble Beach Company. Used under license.
All Sales are Final and subject to Foresight Sports Terms and Conditions