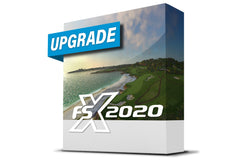 FSX 2020 SOFTWARE UPGRADE (FSX USERS)
Experience the most realistic golf simulation ever with FSX 2020. Play the best and most exclusive courses, practice your skills on the range, or even compete in skill-building competitions with players around the world - all in beautiful 4K resolution.
Featuring true-to-life gaming, powerful professional-grade analysis tools and a complete redesign from the ground up with a host of exciting new features, you may never want to play outside again with FSX 2020.
TAKE YOUR GAME ANYWHERE.
See every shot in 3D. Review detailed ball and club data with unmatched precision. With FSX Mobile, you get everything you love about FSX 2020 in a go‑anywhere app.
Note: This FSX 2020 upgrade is available for current FSX and FR-1 owners. FSX 2018 owners can download and install their software update for FREE here.
Packed with new features, including:
NEW game mode: Glass Break

NEW play mode: Foot Golf

Updated graphics

...and more!
Operating requirements:
GC2, GCQuad, or GCHawk launch monitor
PC operating Windows 10 or greater
Recommend processor speed i7 (Gen6)
Must have NVidia GeForce 1050 Ti video card or greater
Pebble Beach®, Pebble Beach Golf Links®, the course logo, The Lone Cypress™, course designs and their respective underlying distinctive images are trademarks, service marks and trade dress of Pebble Beach Company. Used under license.
PLEASE NOTE: Software activation must be manually added to your account before your purchase is ready for use. This will occur as soon as possible during our normal hours of operation. Please allow 2-3 business days for processing. 
*If you don't know your original activation code, we can help. Just download and run our FSX Activation Code tool on the PC your current FSX software is running on to locate your original activation code