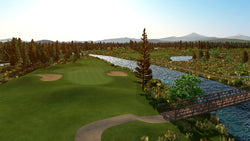 Named one of "America's 100 Greatest Courses" by Golf Digest, Crosswater is a heathland-style course situated on 600 magnificently scenic acres of woodlands and carefully preserved wetlands. This Oregon golf course features five tee placements for each hole, bent grass fairways and greens and is threaded by the gently flowing Deschutes and Little Deschutes Rivers.

Operating requirements:

GC2, GCQuad, or GCHawk launch monitor
FSX 2020 Software
PC operating Windows 8 or higher
Purchasing & Download Details:
After purchase, this course will be immediately available for download and installation. Please note that a licensing code is required for activation, and will be provided via email shortly after purchase.