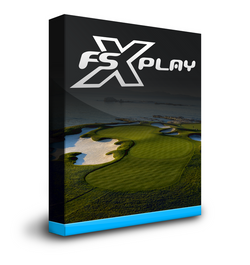 FSX Play Software Upgrade
Act now - limited upgrades available at this time. License activation may take longer than usual.
AN ALL-NEW WAY TO PLAY.
Experience the game like never before—with hyper-realistic gameplay powered by an all-new Unity Graphics Engine. Rich textures, 3D grass and foliage, enhanced lighting, updated UI and more provide for our best simulation experience yet.
BETTER THAN REAL.
Beyond a true-to-life game experience, FSX PLAY's ultra-modern interface displays game-critical information in an intuitive, minimalistic format that enhances every aspect of gameplay without distraction.
Packed with features and improvements including:
Industry-leading Unity Graphics Engine using new High Definition Render Pipeline technology (HDRP) provides unmatched high-definition realism.
Supports resolution up to 5K
3D grass and foliage, rich textures, enhanced lighting, atmospheric gliding, and more
Improved UI and HUD, animations and transitions between holes and shots for a seamless experience
Available game modes include full course play, practice, long drive, and closest-to-pin 
Additional modes and features are under development and will become available through periodic updates
A valid FSX 2020 software license. If you don't own FSX 2020 you can purchase it

 

here.
GC2, GC3, GCQuad, or GCHawk launch monitors. *Bushnell Launch Pro is not currently supported.
PC operating Windows 7 or greater
Graphics Cards:

 

Must have Nvidia GeForce 30 Series (3060 or greater), Nvidia GeForce 20 Series (2060 or greater),

 

Nvidia GeForce 16 Series (1660 TI or greater)

, or Nvidia GeForce 10 Series (1070 or greater). Please reach out to support@foresightsports.com or visit our

 

support page

 

for more information. 
Recommend processor speed: i7 (Gen6)
MORE FEATURES COMING
Additional features are under development and will be available through periodic updates.
FSX PLAY COURSES
We are working to convert all FSX 2020 courses to FSX Play compatible so you can enjoy FSX Play with courses you already own. New courses are being developed on a weekly basis.

 **FSX Play is currently in a pre-release beta stage.  This price is reflective of this beta stage, and by purchasing the customer understands this is not a complete or finished product and will likely have bugs, glitches, and content updates until full release is announced.  Upon full release this price will increase**