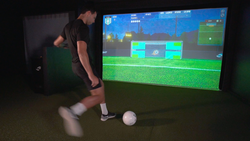 SKILL DRILL (GCHAWK SOCCER SOFTWARE)
YOU'LL GET A KICK OUT OF THIS ONE.
Thanks to its advanced object-tracking capabilities, the GCHawk not only delivers true-to-life golf simulation, it also opens the door to a range of multisport game experiences. 
For the first time ever, players can experience realistic soccer gameplay, including penalty kicks, corner kicks, passing, and free kicks in a true-to-life simulator environment. With critical performance data like ball speed, launch angle, side spin, and more, Skill Drill lets players hone their game off the field so they can dominate on it. 
Looking for even more soccer fun? Fairgrounds features mini-games based on your childhood favourites, from skee ball to darts to bowling and is included with Skill Drill! 
SOCCER PARAMETERS MEASURED INCLUDE:
Ball Speed

Vertical and Horizontal Launch Angle

Total Spin

Back Spin

Side Spin

Tilt Axis

Carry
Operating requirements:
GCHawk launch monitor
PC operating Windows 7 or greater
Recommend processor i7 (Gen6)
Must have NVidia GeForce 1050 Ti video card or greater